Sixth-Grade Davyon Johnson Honored After Saving Classmate From Choking, Woman From House Fire on the Same Day
Police in Oklahoma are crediting a middle schooler for saving a choking classmate and a woman escaping a house fire on the same day. 
"Undersheriff Greg Martin presented Davyon with a certificate, denoting him as an honorary Deputy for the Muskogee County Sheriff's Office," the Muskogee County Sheriff's Office posted to Facebook last Wednesday. "We are all so proud of you, Davyon!!"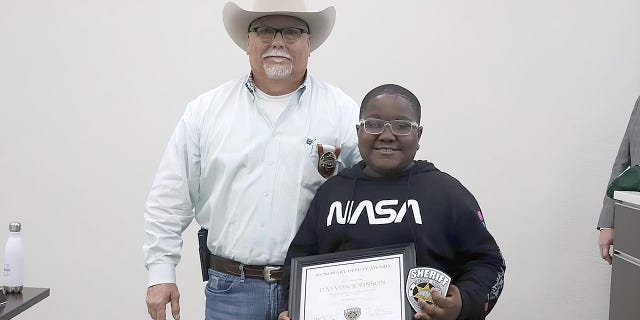 Davyon Johnson, 11, performed the Heimlich maneuver on a classmate choking on a water bottle cap on Dec. 9. Johnson said he learned the Heimlich maneuver from watching YouTube videos. 
"I thought 'oh, she's not moving fast enough,'" Davyon told the outlet. "So I ran across the street and helped her to her truck." Davyon was recognized by the Muskogee Public Schools Board of Education during a meeting on Dec. 14, according to a Facebook post by the Muskogee County Sheriff's Office.
At that meeting, Undersheriff Greg Martin awarded Davyon with a certificate saying he was an honorary deputy for the sheriff's office, according to the post.
"We are all so proud of you, Davyon!!" the post said.
Davyon learned how to do the Heimlich on YouTube, the Enid News reported. He hopes to become an EMT when he grows up, his principal, Latricia Dawkins, told the outlet.
"He is just a kind soul and well-liked by his peers and staff alike," Dawkins said.
Davyon was praised for his actions on social media.
"Great job young man! Keep being kind. the world needs more young men like you!," one comment on the sheriff's office post read.
"You'll do great things in life, especially as an EMT. Follow that dream and never stop reaching in the sky for that star with Dayvon written in it," another person commented.
Muskogee is located about 140 miles from Oklahoma City.
---